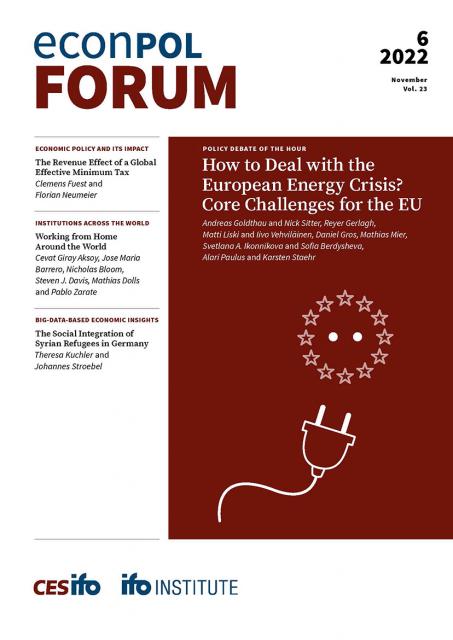 How to Deal with the European Energy Crisis? Core Challenges for the EU
POLICY DEBATE OF THE HOUR
Articles included
POLICY DEBATE OF THE HOUR
Introduction to the Issue on How to Deal with the European Energy Crisis? Core Challenges for the EU
Chang Woon Nam
EconPol Forum 23 (6), 3
Whither the Liberal European Union Energy Model? The Public Policy Consequences of Russia's Weaponization of Energy
Andreas Goldthau, Nick Sitter
EconPol Forum 23 (6), 4-7
Stabilizing the EU Electricity Market: Mandatory Demand Reduction and a Lower Price Cap
Reyer Gerlagh, Matti Liski, Iivo Vehviläinen
EconPol Forum 23 (6), 8-12
Implications of Gas Scarcity for European Energy Policy
Daniel Gros
EconPol Forum 23 (6), 13-15
European and German Electricity Prices in Times of Natural Gas Crisis
Mathias Mier
EconPol Forum 23 (6), 16-22
Managing Energy Security: The Analysis of Interfuel Substitution and International Energy Trade
Svetlana A. Ikonnikova, Sofia Berdysheva
EconPol Forum 23 (6), 23-27
The Energy Crisis in the Baltic States: Causes, Challenges, and Policies
Alari Paulus, Karsten Staehr
EconPol Forum 23 (6), 28-32
ECONOMIC POLICY AND ITS IMPACT
The Revenue Effect of a Global Effective Minimum Tax
Clemens Fuest, Florian Neumeier
EconPol Forum 23 (6), 33-37
INSTITUTIONS ACROSS THE WORLD
Working from Home Around the World
Cevat Giray Aksoy, Jose Maria Barrero, Nicholas Bloom, Steven J. Davis, Mathias Dolls, Pablo Zarate
EconPol Forum 23 (6), 38-41
BIG DATA-BASED ECONOMIC INSIGHTS
The Social Integration of Syrian Refugees in Germany
Theresa Kuchler, Johannes Stroebel
EconPol Forum 23 (6), 42
Abstract
The current energy crisis in Europe is bringing about profound changes that can accelerate the transition to a more sustainable and secure energy system. Yet, it is a supply shock of unprecedented scale and complexity, most noticeable in the markets for natural gas, coal, and electricity. Winter promises to be tough - especially for low-income households that use gas for heating and for small and medium-sized industrial companies. Short-term policy measures aim to shield consumers from the effects of the crisis: these include gas and electricity price brakes and energy subsidies for households. At the same time, many governments in the EU are now trying to increase or diversify oil and gas supplies and also accelerate structural change. The articles in the "Policy Debate of the Hour" section of this issue of EconPol Forum examine the causes of the crisis, analyze its effects, critically assess the policies already in place, and propose new short- to medium-term energy policies to better manage it and strengthen the EU's systemic resilience to energy market volatility.
In our evidence-based policy evaluation section, an article offers insights into the revenue implications of a global effective minimum tax, followed by an international comparison of the effects of pandemic severity and the stringency of government restrictions on work from home in the "Institutions across the World" section. Last but not least, in this issue of the EconPol Forum, we examine the success of the social integration of Syrian refugees in Germany as part of a Big Data study.
Citation
"How to Deal with the European Energy Crisis? Core Challenges for the EU," EconPol Forum 23 (6), CESifo, Munich, 2022.