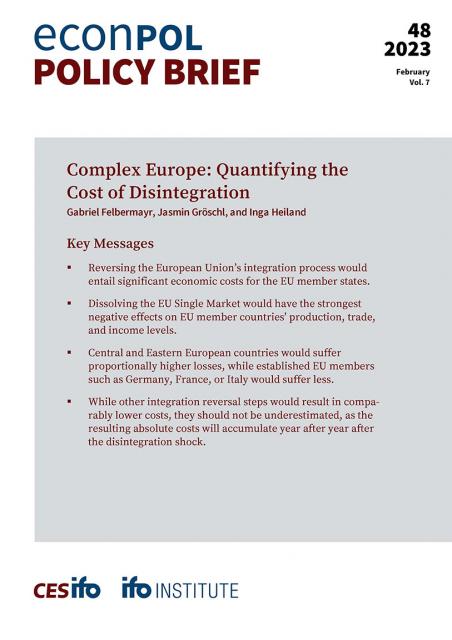 Complex Europe: Quantifying the Cost of Disintegration
Key Messages
Reversing the European Union's integration process would entail significant economic costs for the EU member states.
Dissolving the EU Single Market would have the strongest negative effects on EU member countries' production, trade, and income levels.
Central and Eastern European countries would suffer proportionally higher losses, while established EU members such as Germany, France, or Italy would suffer less.
While other integration reversal steps would result in compa-rably lower costs, they should not be underestimated, as the resulting absolute costs will accumulate year after year after the disintegration shock.
Abstract
On 1 January 2023, Croatia became the newest member of the Schengen Agreement of the European Union (EU) and also joined the Eurozone. This will not only mean a new currency and the elimination of border controls – allowing thus free movement within the Schengen area. It will also mean reductions in barriers to trade between Croatia and other EU member states. The Schengen Agreement and the Eurozone are part of the engine of European integration, namely the reduction of trading costs between the member countries in various dimensions as well as in trade with third countries. This includes the European Customs Union, the European Single Market, the Eurozone, the removal of customs barriers in the Schengen area and the EU's free trade agreements with third countries – all of which are milestones that have created the world's largest free-trade area in terms of value added. This article aims to highlight the importance of reducing trade costs and show what far-reaching effects a reversal of the European integration process through a gradual dismantling of these milestones would have on trade, production, and income across the EU member states and their trading partners.
Citation
Gabriel Felbermayr, Jasmin Gröschl and Inga Heiland: "Complex Europe: Quantifying the Cost of Disintegration," EconPol Policy Brief 48, February 2023.